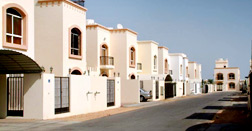 Approximately three months ago my wife and I after viewing five removals quotes and meeting all of the providers decided to go with Marcus Maguire at Allied Logistics. This was without the doubt the most important decision we made with a view to us departing Muscat with a full household goods load after 22 years of work and play!
From the start Marcus kept us updated with meetings, e-mails and calls ensuring all would be well as we made preparations for the load out day last week, the packing team were punctual, totally professional, stayed on the job from start to finish, and after two full days finished up loading the 20ft container with a total of 98 packages including sofa sets, dining tables etc. perfectly, setting it off sealed for the port ready for a six week sail to North Cyprus.
Then a real serious problem occurred, we had mistakenly left both our passports in a chest in one of the boxes, totally our fault! We contacted Marcus, who calmed us down saying leave it with me, this is at the start of a three day long weekend, no port entry, the vessel sailing two days after this period and we are departing Muscat for Cyprus on the 1 June, ticket paid for, no passports! Marcus was able to get into the port 2 days before the vessel left and within 24 hours of depositing letters in Arabic for the Customs Officers, located the container, had authority to break the seal, open the container, then locate box number 5 out of 98! Found our passports, returning them to me, then saw the container loaded for departure!
This was definitely over and above the call of duty, a five star performance which will never be forgotten by a truly appreciative couple of ex pats.
Thank you Marcus Maguire and all who assisted at Allied Logistics, I have no hesitation in recommending you to anyone who requires removals or any export requirement whatsoever!
Duncan Leitch
Al Hail.